I think Cage and I are starting to actually realize we have to spend four months separated from each other. It's been literally three days in different cities and we're already going crazy. Having your best friend so far away is no good.
Luckily he is coming back to Nashville this coming Tuesday for Callie's graduation. Tomorrow my little sister, Sonni, is going to be inducted into the Junior National Honor Society. Saturday, one of my bridesmaids, Nicole Pearce, graduates from Belmont University. Lots of life milestones happening this week and next.
As far as the wedding goes, I'm waiting for the sketch of my wedding dress from local designer Angela Muir. I'm completely excited to see it! Hopefully next week I can convince my mom or any of my bridesmaids to location scout with me. I have to get serious about this... and quick!
In case you haven't had the opportunity to see my engagement ring, 
please ogle at the pretty sparkle-y aquamarine and diamond ring.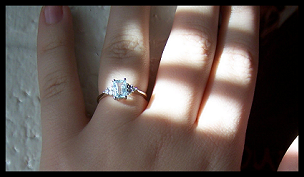 Cage is just too nice to me.